Silverman Gallery
2295 Third St. (corner of 20th)
San Francisco, CA 94107
415 255 9508
Jam Session and Closing of "With signs following" tomorrow, Friday
June 1, 2007 from 7pm on.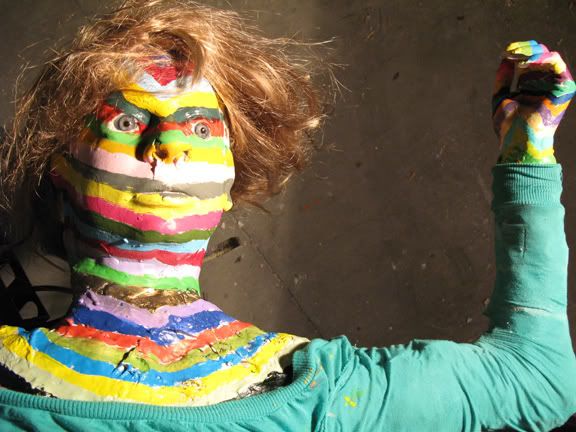 windy wires, clickety clang of leaky pipes and distant whistles.
Bring your own instruments, battery or acoustic to jam with the
artist.

Next Weekend in Los Angeles:
Photo: Courtesy of Job Piston
MAK Center Artists in Residence Barbara Wolff, Katharina Stoever and
Marc J. Cohen of Peles Empire Present:
"A KINGDOM FOR A HORSE"
June 9–July 3, 2007
Opening Reception: Saturday, June 9, 7-10 pm
Curated by Jessica Silverman
Vanessa Albury,
Christopher Badger,
Patricia Esquivas,
Job Piston,
Yuval Pudik,
Ben Shaffer
Mackey Apartments
1137-2 South Cochran Avenue
Los Angeles, CA 90019
To schedule an appointment after June 9th, contact: 323-935-2278 or
pelesempire@gmail.com
Peles Empire is a London-based collaborative founded in 2005 that
explores historical architectural styles within contemporary social
surroundings. Named after a Romanian castle designed by the Viennese
architect Wilhelm Doderer in 1883, Peles Empire reproduces rooms of
this castle within their own domestic surroundings. The project in Los
Angeles is the fourth room of the castle to be re-created. Using
photocopies as wallpaper, they have layered a nineteenth century
baroque interior onto the modernist architecture of RM Schindler. This
re-creation is a site for social gatherings, art exhibitions, and
culinary experiments.
MAK Center for Art and Architecture
at the Schindler House
835 North Kings Road
West Hollywood, CA 90069
323 651 1510 phone
323 651 2340 fax
visit: www.MAKcenter.org
contact: office@makcenter.org