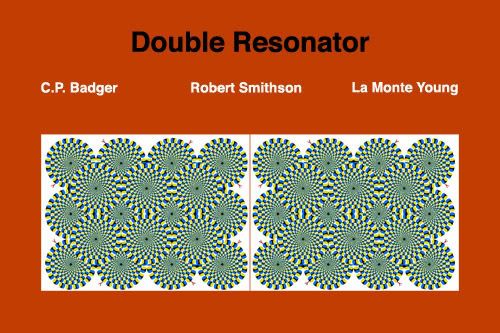 Silverman Gallery is very pleased to present Double Resonator an exhibition of work by Christopher Paul Badger, Robert Smithson and La Monte Young.
Opening reception to take place Friday September 7, 2007 7-10pm.
Double Resonator is part of Silverman Gallery's Original Version, dedicated to solo exhibitions. During which, the artist and Silverman Gallery collectively choose and exhibit a selection of figures influential to the artists practice. By doing so, Original Version constructs a framework of references that form a network between the artists and enhance the viewer's experience.
C.P. Badger is a Los Angeles based artist known for his collaborative work with the group of artists and experimental musicians known as Everlovely Lighteningheart. The group creates unique harmonic events that are never duplicated and will never repeat. Departing from the group dynamic Badger's work for Double Resonator successfully displays a similar interest in subversion by blending technology and everyday objects in an effort to produce a distinctive interplay. Drawing from these collaborative, experimental roots, Badger merges language, sound, image and sculpture to draw the viewer into a unique and temporary journey.
In the main space Badger will install photographic and sculptural works including "Harmonic Field", a 3-piece sound sculpture made of steel, wood, chord and ebow, which is placed throughout the gallery so that the entire room is engulfed in the works subtle, moan produced by slight vibration. "Harmonic Field" calls attention to the singularity and ephemeral nature of sound as well as the piece itself. Eventually "Harmonic Field's" continuous gesture falls into the subconscious only to be awakened by any slight shift.
Other contributions to Double Resonator are by artists Robert Smithson and La Monte Young. The works included have been purposely chosen and consist of scores, collages and instructions that emphasis the artists thinking process and the idea of how to execute a work, as well as documentation of that thinking process. Included are a series of letters from Robert Smithson to curator/critic, Jan van der Marck describing a film project and Composition #10 where Young composes 29 identical instructions, "Draw a straight line and follow it". Although Smithson's drawings were not intended for aesthetic pleasure and Young's compositions not necessarily of a musical nature, they were, as the viewer will come to see, both aids to the imagination.
Double Resonator investigates the relationships between found objects, language and the imagery they produce. The exhibition embraces a broad range of approaches and methodologies, including photography, sculpture, and sound. Double Resonator brings together an inter-generational group of artists whose work explores our perception of the ever-shifting landscape. As viewers we are not merely beholders but participants in our reality: mediating, representing, and filtering experience though our assumptions and pasts.
In conjunction with the exhibition, a limited edition print by C.P. Badger will be produced by Silverman Gallery.
Double Resonator will be on view September 7, 2007 until October 5, 2007.